On Saturday, January 5th, I issued what turned out to be the most blown avalanche forecast of my 20-year career. And not by a little. My forecast stated that the avalanche danger in the backcountry was LOW. By the end of the day, we heard about eight skier-triggered avalanches with four people caught and carried in separate events, with one visit to the emergency room.
What happened?
The holiday storms wrapped up New Year's Eve after producing 31"/1.84" water from Christmas to New Year's. On New Year's Day, the upper level trough pinched off and the winds picked up from the east and northeast and remained moderate with gusty winds from these directions and the northwest in the coming days. Over the course of the week, the snowpack had stabilized and by Friday January, 4th, our staff gained consensus that the danger could be dropped to LOW.
Saturday morning. Another storm was brewing in the Pacific and I knew we would be back to Considerable or High late weekend into early next week.  Pre-frontal winds were picking up from the southwest.  Precipitation was expected late or in the overnight hours.  Even though the winds were strong and all the southerly and off aspects were crusted (academically little snow available for transport), the southwesterlies were a new direction and led to new and different loading patterns…especially onto hard snow surfaces or areas with particularly weak snow surfaces.  These weak snow surfaces (facets and surface hoar) had been widely documented since the first of the year.  Forecaster Greg Gagne wrote a wonderfully insightful piece on this faceting event as a separate blog post for us. 
I wanted the danger to be LOW.  "Wish-casting", we call it.  The danger had been LOW the day before.  "Back-casting" we call it.  In the circular spinning of my mind that morning I felt that we don't use Low or Extreme enough, etc etc. I issued the LOW danger. 

My Bottom Line –Today's avalanche danger is generally LOW. Pockets of new and developing wind drifts may be found in isolated terrain. The danger may reach MODERATE in some areas later today. Remember that risk is inherent in mountain travel – even a small avalanche can be significant in radical, no-fall terrain. And by 730am I sent out a text to the forecast staff –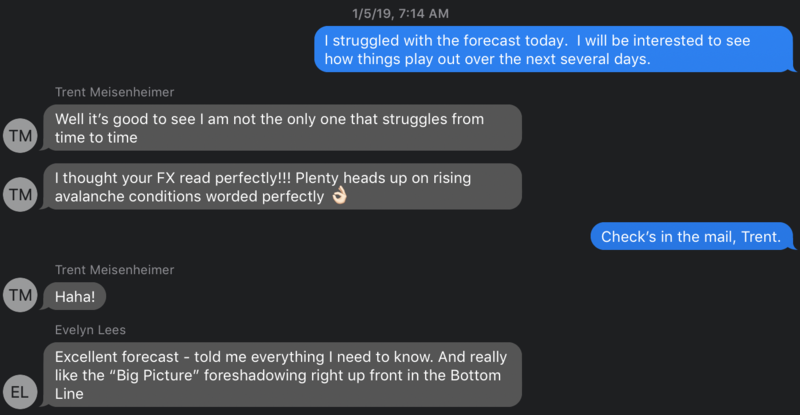 By mid-afternoon the results were in.
---
---
A few days later. Wednesday January 9th. I'm sitting at the bar waiting for Vlad and Jackie to show.
On that Saturday, owing to the forecast, they had decided to head up into Broads Fork of BCC and up into the Blue Ice area near the Diving Board.  It's steep, avalanche prone terrain that should be avoided with unstable avalanche conditions.  Vlad was ahead, breaking trail.  Jackie a couple hundred feet below.  The collapse.  Each carried a few hundred feet.  Vlad buried to his chest, Jackie completely buried with only a ski above the snow surface. She remembers the fear and then blacking out. 
We talk for an hour.  I tell them of my close calls and of how my own partner lost her long time boyfriend in the Teton Range.  I tell Vlad that he is a hero.  We sit.  We talk some more.  They talk of their poor decision-making that day.  So do I.  I tell them how grateful I am how things ended and that each of them are on this side of the line between life and death.  I know that I am part of their story and shudder to think if things had gone a different way, knowing that I would feel complicit in the tragedy.  We smile, shake hands, and leave.  I promise to check in the following week. 
Our last avalanche related fatality (we have had four since I originally penned this mid-January) was the winter of 15/16 and for, shall we say, posterity, I published a piece – Analysis of Utah Avalanche Fatalities for the Modern Era (1940-2016). The last sentiment of the opening paragraph reads like this –
–As with any papers looking at statistics, it might be tempting to look at these fatalities as just numbers.  But at the end of the day, each incident is not a number at all.  Each incident is a human being, a person with a family and a community, with dreams and aspirations whose life was taken from them by an avalanche.Indeed. 
Since then, we have all been out skiing together – after all, we share the same love of the mountains. They told me how much it meant to them that I reached out in a personal way. For me, it was personal. In the end, it is not about statistics and numbers. It's about us.